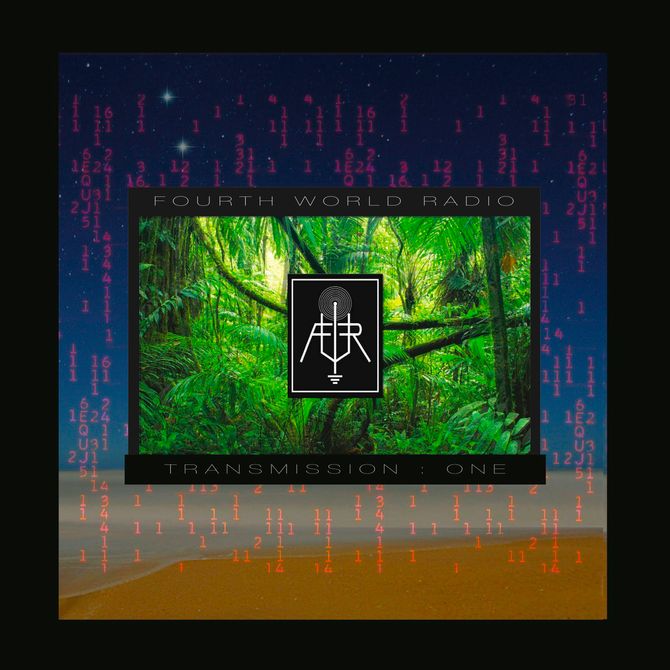 FOURTH WORLD RADIO - TRANSMISSION : ONE
NEW FULL LENGTH ALBUM FROM FOURTH WORLD RADIO, "TRANSMISSION:ONE" AVAILABLE FOR PHYSICAL PURCHASE OR DIGITAL DOWNLOAD! 
Welcome Adventurers to "Transmission: One", the new album by Fourth World Radio. This record is presented for your sonic enjoyment and as a doorway into a different kind of musical experience. Not exactly a concept album, as there is no distinct linear story-line, it wants to bring you into a different world, with tales to tell and images to make your own decision as to what it is about. It is a dreamer's adventure into a wild tropical world of dangerous liaisons (Lush), hedonistic yacht parties (Ibiza), destructive yet beautiful love (Stormchaser), synthesis of man and nature (Dawn Chorus), transformation (Burning Off The Wolf), redemption and hope (That's What It Feels Like To Me), harmonic communication with ancient aliens (title track) and a wild eyed operatic return home (The Martini Shot). These sounds, rhythms and lyrics weave together to create a world to escape to, to be lost and found in, to breathe color into your life if it is needed. We hope you purchase the physical CD so that you may see the artwork created, which is half the story. If you download it digitally, please go to Fourth World Radio's website ( fourthworldradio dot com)(we have been told not to use website URLs here in this description, hence the "spelling out")... Again, please go to the website and download the PDF for album artwork and lyrics, and to learn more about the band! Thank you for reading. Now we hope you can sit with us for a while and listen. Carry on....
P.S. If you opt for a digital download, you can also download a PDF of the album artwork and lyrics here!:

...
CD Baby
Bandcamp
Check out this link with song descriptions, lyrics, meanings, and album/lyric page artwork!!!
FOURTH WORLD RADIO EP- APERTURE
5-SONG CD WITH SNAZZY CD ARTWORK AND TALISMANIC PROPERTIES... OR DIGITAL DOWNLOAD, A TRUE BINARY BUFFET OF DELICIOUS SONIC ONES AND ZEROS! IMPORTED FROM ITALY!!!
THIS MUSIC DOES NOT EXIST YET… BUY IT NOW!!! WHILE SUPPLIES LAST!!!
WHAT A BARGAIN!!!
Buy this album!!! 
Lose 60lbs. Develop Rock-Hard Abs. Increase Size And Stamina. Date More Attractive People. Win Friends And Influence People. Whiten Teeth. Become A Better Dancer. Have Better Luck Gambling. Ward Off Infection And Disease. Win The Lottery. Own A Yacht. Be Healthier. Be Smarter. Hang Out With Models And Celebrities. Find Your Soul-Mate. Understand The Meaning Of Life. Understand Quantum Physics. Invent Something Of Better, Longer Lasting Quality. Develop Superhero-Like Powers. Develop X-Ray Vision. Communicate With God. Achieve Sonically Induced Climax (Depending On Output Volume And Fidelity Of Listening System). Travel To Far Off Locations. Travel To Far Off Times. Learn New Languages. Be The Life Of The Party. Become A Professional Athlete. Become A Better Person. Regenerate. Rejuvenate. Reciprocate…     
…. Results May Vary.
FOR BEST RESULTS:  Listen at very high speeds… or at home, with a good set of headphones, on a high-fidelity system, and with your vice of choice. 
Side Effects Include: repeated use of the word "wow", calling out of work "rich", o-faces, aha-moments, more laundry than usual, swollen egos, withered fears, and bitchin' wheels.
CD Baby
Purchase physical copies from CD Baby! Highly recommended for the artwork, lyrics and liner notes. They will also bring you good luck. Listen irresponsibly.
Previous events
Xanadu Pleasuredome, Unknown, Los Angeles, CA
Ladies, Gentlemen, And Otherwise… The GREATEST SHOW ON EARTH AT THE VERY LEAST!!!
SEND/RECEIVE TRANSMISSIONS: